815 W 180th St, New York, NY 10033, USA
For Rent - Private Double Room $1,450 Per Room / Per Month
Private Double Room – Hudson Heights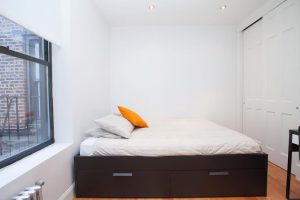 It's a brand new renovated apartment in the Hudson Heights neighborhood of Manhattan, NY. The apartment has 4 bedrooms and 2 full bathrooms, kitchen and living/dining area are shared by the tenants of the four rooms. The apartment has a brand-new kitchen with stainless steel appliances, a dishwasher, a microwave, hardwood floors, and an exposed brick wall.
The rooms and the apartment are fully furnished with all bills and utilities included in the price. Amenities include high-speed Wi-Fi and HD smart televisions in some of the bedrooms. There is a washer/dryer in the apartment.
One block from the (A) Express Train and steps from restaurants, Starbucks, shopping and banks, 2 subway stops to Columbia Medical Center.
The apartment is close to Fort Washington Park which has spectacular views of the Hudson River, and it includes baseball fields, basketball courts, tennis courts, a soccer field, and a playground.
Private Double Room with Queen size bed, desk, chair, and Closet. It also includes a 32″ smart TV featuring Hulu, Netflix, HBO, and Showtime.
Pricing for Single Occupancy
$1,450 – $1,600 per month
For more information please call us at 1(800) 984-9029 or by completing the agent form on the right.